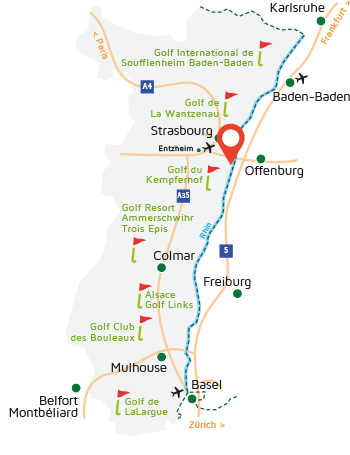 With the Kempferhof Golf Club on site, Le Kempferhof Golf et Château-Hôtel is located in Alsace and extends over 85 hectares of untouched nature that provides a peaceful backdrop to your stay in the region.
This 18th century noble residence, has been transformed into a luxury hotel full of character and personality.
Le Kempferhof Golf et Château-Hôtel offers 26 rooms including 9 suites.
The restaurant serves French cuisine elaborated according to the seasonal offerings of the hotel's vegetable garden.
Enjoy the 18 hole golf course, classified as one of the best courses in Europe. Also the Rhine river in a region with great history and culture. A charging station for electric cars is available at this property.




Le Kempferhof Golf et Château-Hôtel
351 rue du Moulin - 67115 Plobsheim
Tél. +33 (0)3 88 98 72 72
This email address is being protected from spambots. You need JavaScript enabled to view it.
www.kempferhof.fr