Golf du Kempferhof
Located on the banks of the Rhine just 20 minutes drive from Strasbourg, the exceptional layout of the Golf du Kempferhof designed by Robert Von Hagge, is a true gem. The 85 hectare estate along the Rhine river is characterised by century old trees, landscaped mounding, deep bunkers and numerous lakes. The renovations started at the beginning of 2023 include a new 40 room 5-star hotel with spa and a golf training center unique in France. The restaurant has also taken a new direction offering high-end street food dishes.
FAVORITE HOLE N° 14
This Par 3 is both eagerly awaited during the round but also dreaded. The legendary hole is150m from the Yellow Tees and 120 from the Red Tees to the peninsula green surrounded by water. With a little tension on the Tee, it may be the best shot of the day to reach dry land. The Pro's tip, take 1 club more and strike with confidence!
18-hole golf course / PAR 72 - 5989 m
Ladies slopes

127

122
Men slopes

139

132
Golf du Kempferhof
351 rue du Moulin - F-67115 Plobsheim
Tél. +33 (0)3 88 98 72 72
contact@kempferhof.fr - www.kempferhof.fr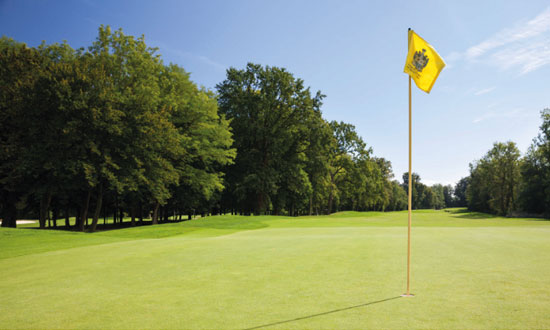 The irrigation system was modernised at the end of 2016 allowing a reduction in water consumption by one third during the season. There will be a zero pesticides policy in place by 2025 which will encourage even more wildlife to the already expansive biodiversity in place where close to 200 bird species have been identified.