Golf International Soufflenheim Baden-Baden
Soufflenheim Baden-Baden International Golf Course is ideally situated just 30 minutes drive north from Strasbourg and 20 minutes from Baden-Baden. The renowned German golfer, Bernhard Langer, was responsible for the design of the course set in 120 hectares of beautiful green countryside surrounded by forests. Golf enthusiasts will appreciate the peace and quiet of the site, secluded from the bustle of everyday life. Manicured greens protected by technically placed hazards together with the breathtaking landscapes offer a unique and unforgettable experience.
FAVORITE HOLE N° 6
This Par 4 is considered the most difficult hole on the course due mainly to the water hazard on the right side. However, keeping calm and focused, a good score is always possible and leaving the green with a par is very satisfying.
18-hole course / PAR 72-6361 m (handicap min 36.0)
Ladies slopes

137

134
Men slopes

142

136

134

132
9-hole course / PAR 64-4554 m (green card ok)
Slopes

116

114
6-hole course / PAR 54-369 m
Golf International Soufflenheim Baden-Baden
Allée du Golf - F-67620 Soufflenheim
Tél. +33 3 88 05 77 00 - Fax +33 3 88 05 77 01
info@golfclub-soufflenheim.com
www.golfclub-soufflenheim.com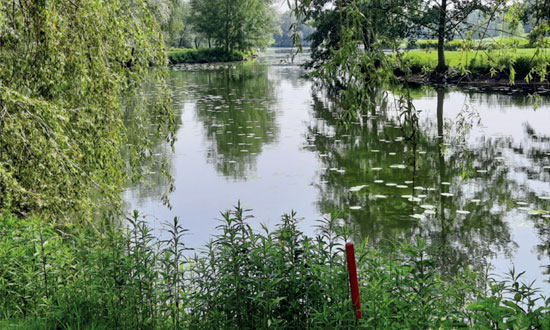 The Golf contributes enormously to the improvement of the local biodiversity by preserving the natural aspect of the surroundings and the development of the local environment. The variety of flora and fauna, insects and butterflies, benefit from the 18 ponds and wildflower meadows throughout the site.